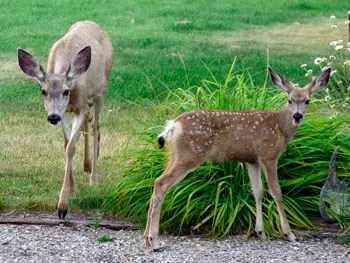 One of the Cranbrook City Councillors who voted against a local deer cull says other ideas have fallen on deaf ears.
Wesley Graham was one of two members of Council who opposed the cull Monday night, but it was ultimately approved for later this winter.
Most of Council agreed previous culls haven't been successful, but the majority admitted something needs to be done and they have limited options.
Last year the City managed to captured and destroy just 15 deer after receiving a license to remove up to 100.
Graham says this Council has previously met with the BC Government but little came out of the discussions.
He claims they and representatives from other communities facing similar issues were presenting different strategies but members of higher levels of government didn't seem receptive.
Graham calls on provincial decision makers to come to Cranbrook and other areas and start asking questions instead of providing only a few solutions.
The bulk of Cranbrook Council expressed frustration with the lack of options they have to manage urban deer populations and suggested the problem should fall on the BC Government.
Currently the Province only supports licenses and funding for communities to undertake a lethal cull or build fencing.
Graham says they either need to deal with urban deer issues them self or enable municipalities to do more.
The Councillor argues, at the end of the day, municipalities are responsible for roads, infrastructure, zoning and bylaws – not wildlife.
Graham points out there's always push back when you start the discussion around culls, and that shouldn't be a burden for local governments.
Kimberley and Elkford have declared, for the time being, killing local deer is not an option for them.
Both were involved in a two year East Kootenay translocation pilot project, along with Cranbrook and Invermere, that removed approximately 80 deer from the urban centres and placed them into
The initiative saw mixed results and the lead biologist suggests more answers are needed before the Province should approve translocation as a viable option.
Kimberley, who relies heavily on tourism, says it will conduct culls and instead has budgeted $100,000 for its own translocation project next year.
Elkford plans to explore hazing local deer with trained dogs.
– Cranbrook City Councillor Wesley Graham