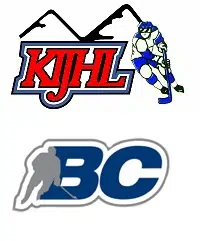 Seven players have been suspended after Saturday's game between the Kimberley Dynamiters and Creston Valley Thunder Cats.
Creston took a commanding lead late in the game and multiple fights broke out in the third period.
The Nitros' Lucas Purdy was suspended for seven games after slashing a Creston player from behind.
Harrison Risdon gets five games, Mason Palaga sits for two and James Farmer for one.
KIJHL President Bill Ohlhausen says Purdy's match penalty was given a six-game suspension by BC Hockey with one additional game added by the KIJHL.
Ohlhausen says they see incidents like this once or twice a year.
"It's one of those incidents that happen once in a while." says Ohlhausen. "I guess it's because of the playing of one another quite often, they do develop once in a while."
Ohlhausen says there's no place for that kind of behaviour in the league.
"We don't need that type of thing." says Ohlhausen. "It only happens once a year [or] twice a year and it's just the control that's lost by the individual I think and that's why the hefty penalty was sent down by BC Hockey."
Three Creston players were also suspended including Carson Small and Levi Mitchell for three games and Austin Canete for one.
The Cats game vs Kimberley got dangerous. Keep your eye on the left part of the screen. This only gets a 7 game suspension. #joke pic.twitter.com/XylfRocRtK

— Eric Blow (@EricBlow92) November 27, 2017
– Bill Ohlhausen, KIJHL President