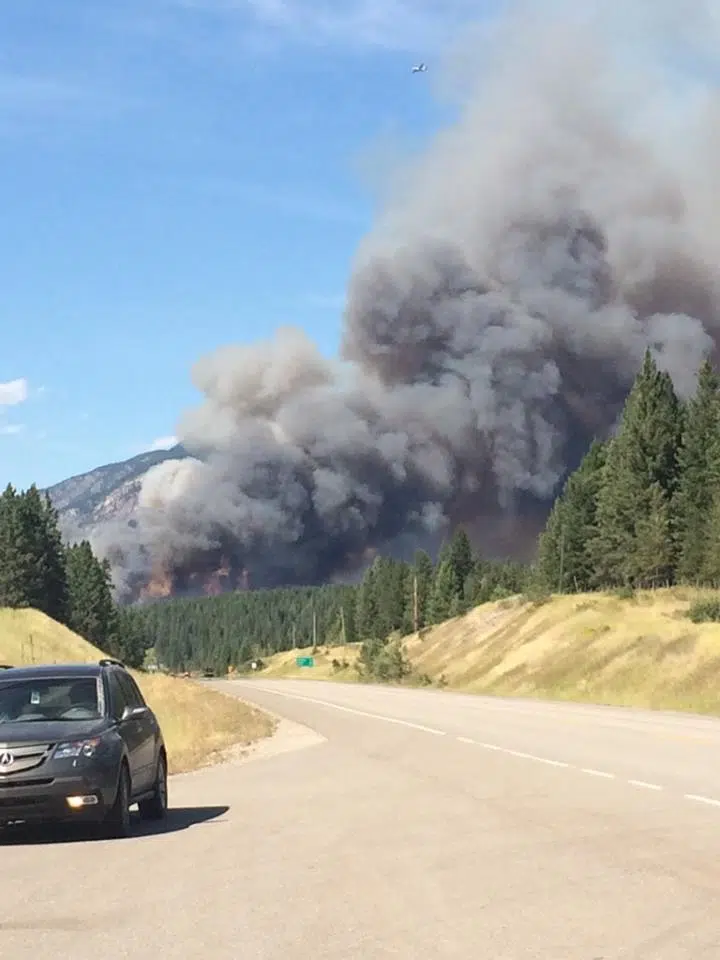 The massive wildfires that threatened East Kootenay communities this summer seem further away with every falling snowflake, but now is the time to find answers for any future blazes.
This from Jeff Kelly who owns Fort St. John based emergency response company Safeguard, and believes now is the time everyone should be asking 100 questions not the next time flames are knocking on a community's doorstep.
Kelly is currently travelling the province, talking to communities and governments with two goals in mind.One is to work with the BC Government to employ their large-scale sprinkler suppression system across BC and the other is to improve communities' preparedness plans.
Kelly argues the historic 2017 wildfire season will become the new normal for British Columbia, so we need a new way of looking at the issue.
Safeguard's elaborate system reportedly involves 142 sprinklers, covering 300 feet, pumping 300 gallons per minute each.
Kelly calculates that's more than 60 million gallons in 24 hours or the equivalent of 20 mm of rain over a stretch of a kilometre and a half in front of the potential blaze.
The system is said to be able to pump water 30-40 km if needed, and Kelly says they mapped out all major fires from the 2017 season and how they would access water to attack them.
He insists they are able to recreate mother nature.
When everyone was praying for rain this summer, Kelly says they could have brought it.
He adds they successfully deployed this system to assist BC Wildfire Crews in the battle versus the 192,000 hectare Elephant Hill wildfire near Kamloops this summer.
In his presentation to the Regional District Friday, Kelly claimed they've set up with agreements with the six major water distributors in Western Canada with combined assets of pumping and response equipment worth half a billion dollars.
Since being brought in late in the wildfire season, Kelly says Safeguard has had subsequent meetings with the Province about implementing their large-scale sprinkler system across BC.
Kelly suggests they are collaborating with the BC Government and six municipalities in a type of pilot project between now and the spring.
He explains the hope is to test out the equipment with different communities, study the results and create a template that could be shared across BC – for free.
Kelly estimates it could take two years to convince the province this is the best step forward.
The second goal of better preparing British Columbians for when, or if, a wildfire does threaten might take longer.
He says most BC communities' are lacking with their Fire Smart Programs.
Kelly agrees some have been doing an adequate job focusing on prevention, by removing fuel sources and protecting infrastructure, but suggests 3/4 of local governments do not have a wildfire response program.
The East Kootenay saw several major wildfires this year, with more than 400 properties evacuated at one point.
Most notably may have been the Lamb Creek wildfire near Moyie that grew to nearly 2,200 HA.
– Safeguard owner Jeff Kelly

 (Photo courtesy of Kimberley RCMP)