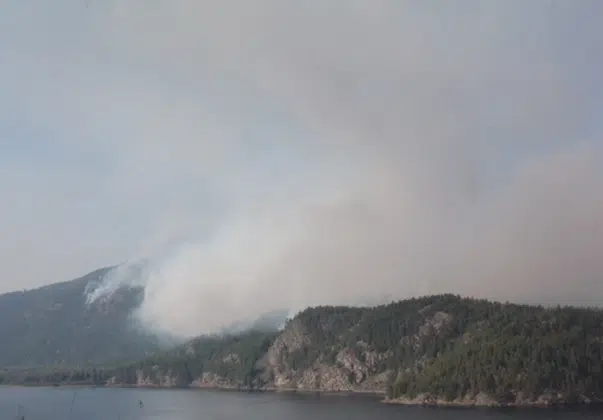 Cranbrook's Mayor believes an extensive sprinkler system being shopped acround BC as a tool to fight wildfires might not be the right fit for his city.
Lee Pratt is reacting to a presentation at last week's RDEK meeting where BC company Safeguard said it's extensive water suppression set up could protect communities from wildfires.
The system includes 142 sprinklers and can allegedly pump 60 million gallons of water in 24 hours.
Safeguard owner Jeff Kelly told the Regional District they successfully deployed it when assisting BC wildfire crews with the massive Elephant Hill wildfire this summer outside of Kamloops.
Pratt admits it's a unique approach.
He says it's different than the current tactics being used by the BC Government and may have some merit in some locations of the province, but suggests it would have restrictions in mountainous terrain –  such as the East Kootenay.
Safeguard told the RDEK Board it was meeting with the Province to create a template for communities to use moving forward.
The Cranbrook Mayor does agree with the proponent about one thing though.
Kelly argued 75 per cent of BC communities do not have a complete wildfire response program and Pratt says he's 100% right.
Pratt contends a lot of the programs put in place right now are band-aid solutions and not a real fix to the problem.
Kelly insists municipalities are focusing too much on prevention efforts and aren't planning for when an actual wildfire is knocking on their doorstep.
Cranbrook has undertaken it's own initiative to help prevent wildfires by removing fuel sources south of the city while trying to create business for the local forestry industry.
Pratt says Cranbrook has been identified as one of the top three dangerous zones in BC, so they are committed to addressing the issue.
Several major wildfires ignited in the East Kootenay this summer causing over 400 properties to be evacuated.
Pratt also added he was glad to see the Province announce Monday they are reviewing the unprecedented 2017 wildfire and flood seasons, something the Cranbrook says needs to be done.