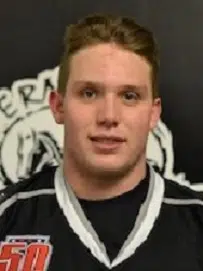 One Fernie Ghostrider has stepped up his game with a key point producer out of the lineup.
Brendan Nemes was an offensive threat tallying six points in a pair of games for the Riders over the weekend.
The 19-year old scored twice and added three helpers in the Riders 7-0 rout of Golden Saturday.
He also tallied a single assist in Fernie's 7-2 loss to Creston Valley on Friday.
"It really helped having some good linemates that set me up pretty well on both of my goals." says Nemes. "I felt pretty good [and] was moving my feet pretty well."
The dynamic weekend was especially important with Keelan Saworski out with an injury.
"With Keelan out I definitely have to step up my game a little bit to pick up the scoring." says Nemes. "Definitely has a little of added pressure on myself and our top line."
Saworski has been the cornerstone of the Ghostriders' offence this season with 23 points in 17 games.
Nemes is now one of three players averaging a point per game for Fernie alonside Mitch Titus (1.2) and Saworski (1.4).
"I'm pretty satisfied with how I'm playing." explains Nemes. "I'd like to be a little more consistent, maybe get a little bit more points consistently instead of in bulks."
Nemes is also now tied with Saworski for the team lead in goals with 13 and is second in power play goals with 6 behind only Ryan Partaker.
– Brendan Nemes, Fernie Ghostriders forward