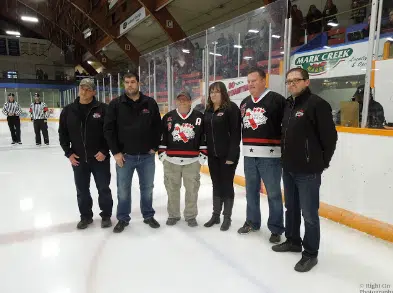 The man who promised millions of dollars to Kimberley hockey is facing charges of forgery and fraud.
Cranbrook RCMP say they began an investigation into Wasa's Mike Gould last month when a local business owner contacted them about an unpaid bill worth thousands off dollars.
Constable Katie Forgeron says Gould used the restaurant to hold a banquet of 50 people.
She explains at that time Gould failed to produce the money to pay for the event and police began their investigation.
RCMP previously told us the suspect behind the incident handed checks over to the restaurant to cover the bill.
However, when the owner went to cash those checks she was advised there was insufficient funds in that account.
Forgeron points out the accused has since paid the bill at the restaurant, which the owner has confirmed, but the circumstances of the event led police to recommend charges to Crown Counsel.
Gould, who will appear in court next Monday, stood in front of a crowd at an October 13 Kimberley Dynamiters game and pledged $7.5 million dollars to the local KIJHL team and minor hockey association.
Since then, he faces several allegations of promising significant amounts of money only to never deliver on the commitments.
Gould has repeatedly set new deadlines of when he expects to hand the money over to Kimberley hockey only to push the date back again when the deadline arrives.
He assures he's worth billions of dollars and will make good on his donation.
– Cranbrook RCMP Constable Katie Forgeron