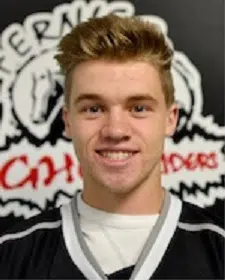 Captain Mitch Titus is leading the Fernie Ghostriders in to the latter half of their schedule.
Titus is riding an eight game point streak and has 18 points in his last 12 contests.
The Riders are in Golden Friday to play the Rockets before returning to Sparwood to host Creston Valley Saturday.
Titus says chemisty on his line is what's driving his production lately.
"It's just been making the right decisions and focusing on not trying to be a big stick-handling phenom." says Titus. "Just trying to play a solid game of hockey and it's been rewarding for me."
Titus says he's just been trying to keep things simple but he also thinks he could be doing more.
"I think as a player I need to generate more offence or do something more." says Titus. "Showing with the team record our team would like to be a bit better."
Fernie's record is 9-18-1-2 this season and sits fourth in their division.
– Mitch Titus, Fernie Ghostriders captain