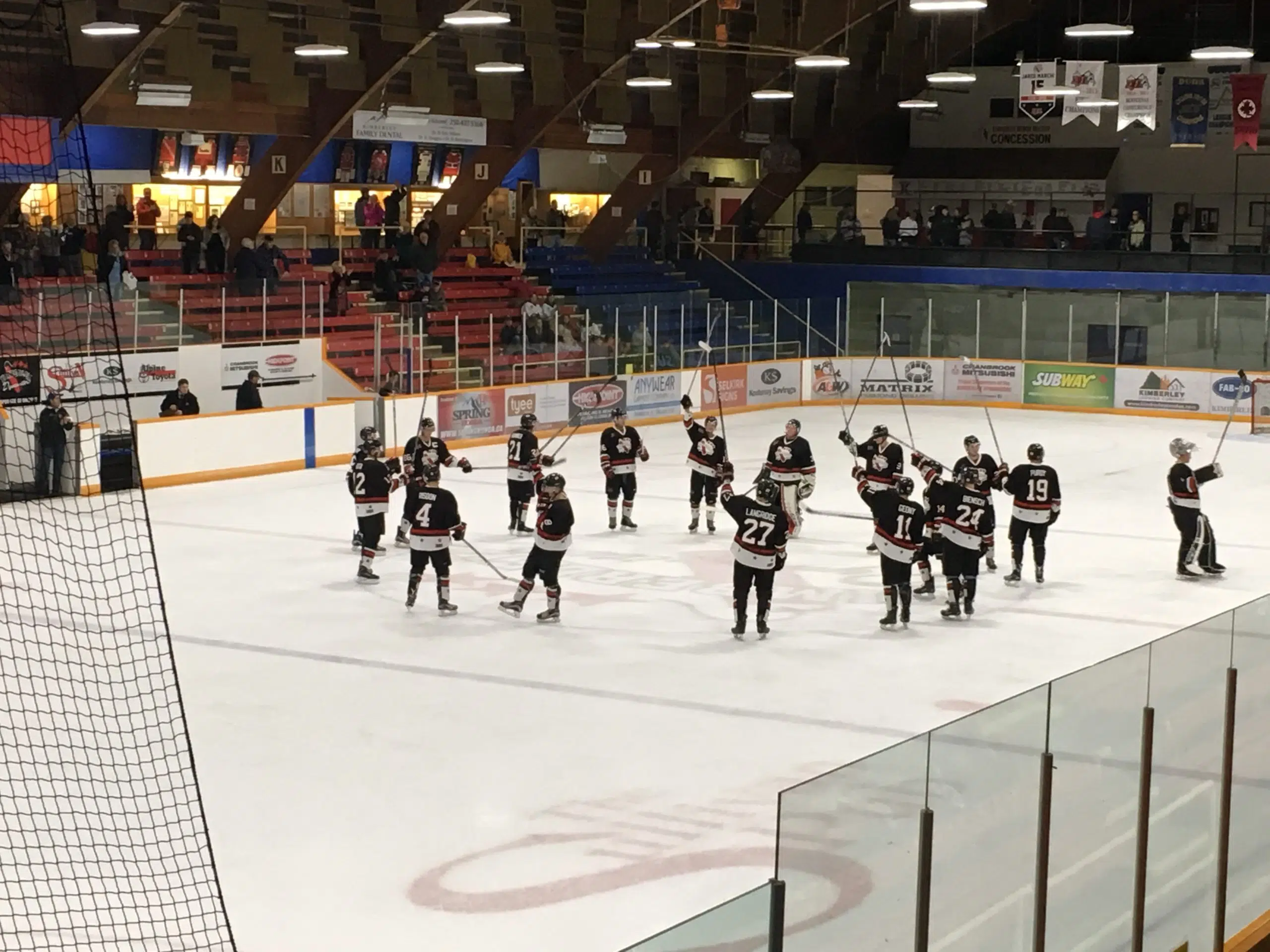 The Kimberley Dynamiters erased a two goal third period deficit Tuesday night to get by the injury riddled Fernie Ghostriders 4-3 in overtime.
The Riders were on the scoresheet first when Mitch Titus tapped a Tristian Downe point shot past Nitros netminder Adam Andersen nearly halfway through the opening frame.
Titus would add assists on Keelan Saworksi and Matthew Cooper goals to lift Fernie to a 3-1 lead heading into the final period of regulation.
Ghostriders puckstopper Broc Merkl turned aside 21 of 22 shots through 40 minutes of play.
However, Kimberley would begin to pick away in the third when forward Nicholas Ketola scored his 18th goal of the season after netting number 17 in the first.
James Farmer would pull his team even with Fernie at the 14:30 mark, ultimately sending the game into a fourth frame.
Brandt Bertoia stepped into the role of overtime hero two and a half minutes into the extra period when he fired a shot past Merkl.
Ketola says his team showed a lot of character to get back into the game after struggling out of the gate.
The product of Mead, Washington suggests the The Dynamiters are a dangerous bunch when they ban together.
Kimberley has now one all five meetings against Fernie this season but four of those contests were decided by a single goal.
Riders Head Coach Craig Mohr says he almost considers Tuesday's effort a win.
He suggests his team played great despite having such a short bench.
After joking every guy on the bench probably clocked 30 minutes of ice time, Mohr quickly turned sincere with crediting the players for a well-fought 60 minutes against a top team in the league.
Fernie was playing with just nine forwards and an Affiliated Player, Kyle Klein, on the blueline.
Seven bodies are out of the line up for the Ghostriders who are likely eager for another break in the schedule.
The KIJHL is idle until next Tuesday due to the Prospects Showcase in Kelowna this weekend.
Fernie will try to snap a seven game skid when it visits Columbia Valley and Kimberley remains at home to take on Golden.
– Dynamiters forward Nicholas Ketola

– Ghostriders Head Coach Craig Mohr