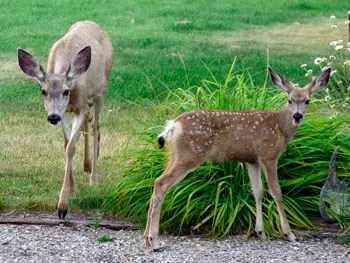 A conservation group is calling out the Province for providing zero non-lethal options for deer management in East Kootenay communities.
The BC Deer Protection Society wants Victoria to allow methods outside of culling to manage animal populations.
Spokesperson Liz White says both Kimberley and Elkford are seeking alternatives after taking part in a translocation pilot project in 2015.
She says the government has given no answer to these requests, but approved culls in Cranbrook and Invermere.
"They are moving back, they are re-trenching into the culling," White says. "Invermere and Cranbrook got their permits just like that. Kimberley has been working hard and I'm not so familiar with what's happening in Elkford but they certainly want to try something different and they can't get a permit."
White claims culls in Cranbrook and Invermere have seen no success in reducing deer numbers and do not address safety concerns.
"As Cranbrook council said in their November 20th meeting, the Ministry has left them with no options other than culling," White says. "Even though they acknowledge it doesn't work, they felt like they had no alternative than to cull. We think that the Ministry should step up on this."
Kimberley budgeted up to 25 thousand dollars for translocation in 2018 and Elkford wants to bring in trained dogs for a hazing project.
The BC Deer Protection Society also believes a ban on culls and mule deer hunting should go into place until population declines in the region can be investigated.
– BC Deer Protection Society Spokesperson, Liz White