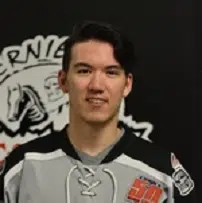 A 16-year old Fernie Ghostrider is making the jump to Junior A next season.
Ethan Jang has caught the eye of the Alberni Valley Bulldogs and is committing to the BCHL club for the 2018-19 season.
Jang is currently an affiliate player with the Bulldogs and has played one game this year.
He says this is something he's been working towards and believes he will bring multiple assets to the team.
"I think I can bring lots of speed." says Jang. "I like to lay the body a lot so I think I can bring a physical presence to the team."
Jang says former Creston Coach and current Alberni Valley Assistant Coach Jeff Dubois expressed interest in the young forward since the summer.
"He gave me a call and said 'Do you want to AP with us?' and I said sure and then I went down for a weekend and I got to play game against Wenatchee and they really liked me so they kept in touch and next thing you know I'm committed."
Jang has 10 points in 31 games with the Ghostriders this season.
Jang recently played in the KIJHL Prospects Showcase in Kelowna and says it was a great experience.
The Ghostriders are in action Thursday when they head over the border to take on the Spokane Braves.
– Ethan Jang, Fernie Ghostriders forward