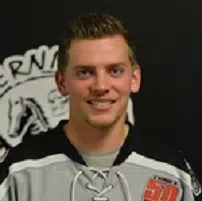 One of the Fernie Ghostriders' top blue liners has returned to the lineup after getting a taste of international action.
Kevin Pierce joined Team Mexico in Serbia for the World Junior Division II-B Championships.
The 19-year old d-man was born in Mexico when his parents were working in Hermosillo, Senora.
He explains it was his fourth tournament with the Mexican team and says it's always an amazing experience.
"I get to travel the world and see all these new places." says Pierce. "I also get to meet a bunch of new guys and that's awesome too."
The Canadian-Mexican blue liner scored a goal in the Mexicans 5-4 win over Belgium.
Pierce explains the international tournaments are always an eye-opener to see the talent around the globe.
"I guess it just shows me how there's competition all over the world." says Pierce. "I definitely can gain some confidence from these tournaments and bring it back [to Fernie]."
He was also named Top Defenceman three years ago in the U-18 Championships in Taiwan.
Pierce has picked up a pair of assists since re-joining the Riders last weekend.
He has 18 points in 34 games with Fernie this season.
Pierce plans to re-join the team in April for the World Championships in Spain.
– Kevin Pierce, Fernie Ghostriders defenceman