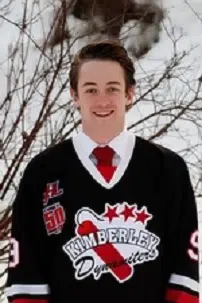 A Kimberley Dynamiters forward is lighting it up since returning from a stint in Junior A.
Cooper Page has posted eight points in his first five games since coming back to the Nitros.
Page started the season with the Calgary Canucks of the Alberta Junior Hockey League.
He says it feels good to get back into a groove in Kimberley.
"I think it's pretty easy when you're playing with good linemates." says Page. "They just find ways to get the puck in the net and the last few games have been good to me."
Page says living and playing in Kimberley is something special.
"I think the atmosphere the whole town has for the hockey community is something you really don't see when you play [in the AJHL]." says Page. "It's something that players out here in Kimberley and Fernie and all these places take for granted."
The 19-year old is the top scorer on the team since returning to the lineup.
Page played a major role in Kimberley's playoff run last year posting eight points in 17 games.
He hopes to have a similar effect on a team that is destined for another deep run this season.
"I hope the team carries into the playoffs and we go for a good run" says Page. "That's really what I came here to do."
– Cooper Page, Kimberley Dynamiters forward