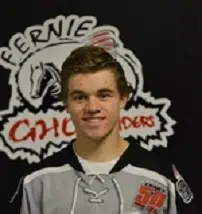 The Fernie Ghostriders captain has kicked it into another gear as the final month of the season approaches.
Mitch Titus has been producing at a rapid rate for the Riders, tallying 14 points in his past five games.
He says his line has found great chemistry heading into the final stretch.
"Whenever I give them the puck with an opportunity to score a goal they've been able to bury." says Titus. "It's awesome, you kind of roll off it a little bit and a little bit and after a while you can get some points together and it pays off."
The 20-year old has pushed his scoring total to 55 points in 40 games this season.
Titus believes being a stronger skater this season has led to his success.
"I've been feeling good." says Titus. "My feet have been moving pretty fast and I'm definitely seeing some improvement in my skating over the past year which is good to finally see some improvement."
Fernie split their weekend winning 5-4 over Columbia Valley Friday and falling 5-4 to Kimberley the following night.
Titus says despite being satisfied with his personal perfomance he believes his team has more potential.
The Riders have just 12 wins in 40 games this season.
"I would like to see some more wins, that's what it's going to come down to in the end."
– Mitch Titus, Fernie Ghostriders captain