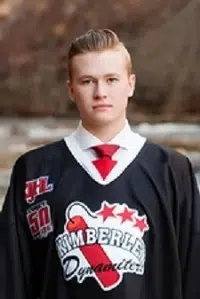 Two solid seasons with the Kimberley Dynamiters has landed their starting goalie a spot with an American college team.
Cody Campbell announced his commitment to the Central Oklahoma Bronchos of the ACHA this week for the 2018-19 season.
Campbell says this is something he's been working toward for a long time.
"It's always been a dream of mine to play college hockey and now I'm going to get that opportunity." says Campbell. "It's exciting to see it all come to life in front of me."
The 19-year old is in his second season with the Dynamiters and has played an integral role in their success.
Campbell says he's confident in his game but there's always areas he'd like to improve.
"Try to get faster and getting to the puck and getting set on my feet before the shot's released." explains Campbell. "I know it's going to help me come playoffs and it's certainly going to help me come the next level."
The Kimberley puck-stopper has a 2.27 goals against average in 28 games with the Dynamiters this season.
Campbell has 44 wins in 68 career KIJHL games.
– Cody Campbell, Kimberley Dynamiters goaltender