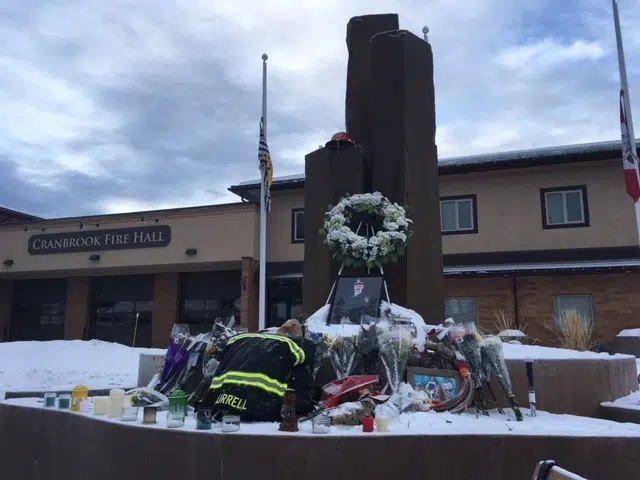 Flags are at half mast at the Cranbrook firehall and City Hall in honour of one of its fire fighters.
A memorial is growing outside the firehall with a wreath, flowers and candles surrounding a picture of Captain Clayton Murrell who died Saturday in a crash on Highway 3 near Yahk.
The City says on their website, Murrell will be remembered for his kindness, as being a gentle soul and for his professionalism.
RCMP report the incident occurred at approximately 9 AM when a jack-knifed transport truck went into the oncoming lane and slammed head on with a pick up truck towing a horse trailer.
The collision killed Murrell, an Edmonton man driving the transport truck and two horses.
Murrell's partner Joan MacKinnon, who is the City's Aquatics Supervisor with Community Services at Western Financial Place, was in the pickup truck as well and is said to be in critical condition after being airlifted to hospital.
A Facebook post by the Cranbrook Professional Fire Fighters Association says MacKinnon has had one surgery already and a second procedure will wait until her condition improves.
An investigation into the fatal incident continues but police say icy conditions may have been a factor.