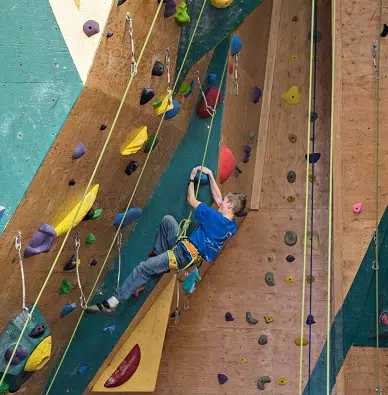 An 11-year old kid from Kimberley has climbed his way to the national stage.
Aris Haraga is going to the Youth Boulder National climbing comptetion in Quebec City.
Brad Robison coaches Haraga alongside Kevin Blades for the Spirit Rock Climbing Team in Kimberley.
Robison says a lot of hard work has gotten the young athlete to this point.
"We do a lot of upper-body training and just a lot of practice on the mental game trying to figure out these puzzles that they're going to be dealing with at the national level."
Robison says the event features the top eight climbers from each province.
"There's quite a few spectators watching them." says Robison. "Generally they'll have five minutes to do the climb. As much as it is strength it's more of just a mental game."
This is the first time Haraga will compete at the national level.
11-year old Kimberley native Logan Robison also qualified for the event but won't be competing.
The competition runs February 17th to 19th.
– Brad Robison, Spirit Rocking Climbing Team Coach
(Photo courtesy of Facebook//Spirit Rock Climbing Centre)