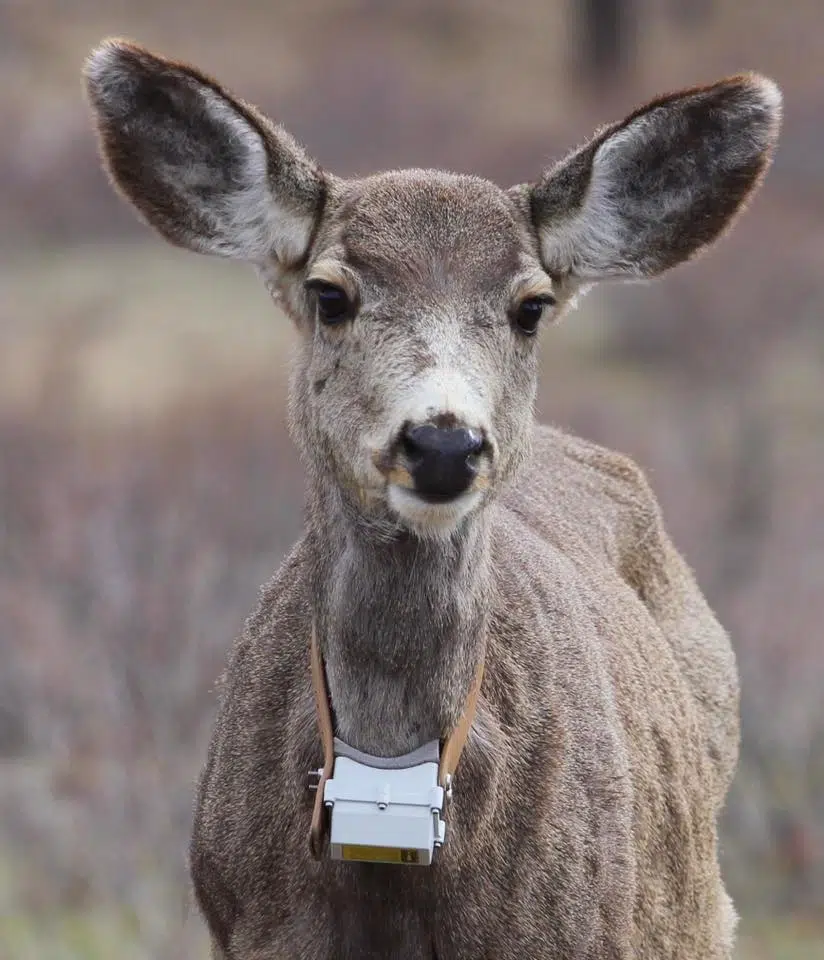 Official results of a study that relocated regional urban deer show an equal number of animals continued to migrate, stayed put in winter range or wandered until they returned to a community.
The team behind the East Kootenay Urban Deer Translocation Trial has released its conclusions and recommendations after nearly 90 were removed from Cranbrook, Kimberley, Invermere and Elkford in 2016 and 2017.
GPS collars were put on 40 of the ungulates whose movement was classified in three categories: migratory, non-migratory and wandering.
Thirteen of those deer continued to migrate, 15 didn't travel far and 12 moved to and stayed in a community.
Seven of the wandering deer generated formal complaints from residents in their new home.
Once in a community, wandering deer often demonstrated highly habituated and sometimes aggressive behaviour.
Fifteen deer were never located in any rural area.
The East Kootenay study had similar survival rates, 50%, to numbers out of Utah and only slightly lower than statistics reported in New Mexico.
Deer captured in the "urban core" of municipalities were more likely to adopt to wandering behaviour, but researchers point out this is a problem as these are the animals that should be targeted in an initiative like this.
Not only did the wandering behaviour present a challenge to the pilot project, but the study identified other issues such as finding locations to translocate the deer that would minimize the chances of them becoming a potential conflict in another community.
Deer were released in three primary areas away from the main Rocky Mountain Trench: Lavington Flats, Upper Kootenay River and Ram/Mt. Broadwood.
One of the recommendations is release sites should not be considered within the main part of the trench in any area below 1100m of elevation.
There is also a time constraint for moving deer, which the report says can only be done in late winter due to animal welfare considerations.
It is suggested more research may help predict which deer make better candidates for translocation prior to capturing and moving the animals, as it says no single factor can predict how a deer will respond to translocation.
There are several unknowns surrounding response behaviour.
Invermere deer appear to be the most suited for this method of management, however Kimberley seemed to have few successful candidates for translocation.
None of the animals from the Columbia Valley District generated complaints and all of them exhibited migratory behaviour.
Two Invermere relocated in 2016 deer did return to the community but continued on the following spring.
Half of all deer that wandered long distance in search of a residential area originated from Kimberley.
Ironically, Kimberley is planning its own translocation initiative while the mayor of Invermere believes the best method to address the issue in his community is a lethal cull.
Ultimately, translocated deer did not move farther than non-urban deer, but the study says they did move in different ways.
No non-urban deer showed wandering behaviour and were far more likely to migrate than translocated animals.
With that said, it was also found mule deer are willing and able to travel great distances in order to find the conditions they seek.
The report does suggest the actual process of capturing and transporting the deer worked very well.
A budget for any future translocations governments may undertake was also produced based on how much it would cost to move 30 urban mule deer.
It says the total project would be $31,5000 or $1,050 per deer.
The East Kootenay Urban Deer Translocation Trial was a response to several communities in the region expressing interest in finding non-lethal methods to manage local animal populations.