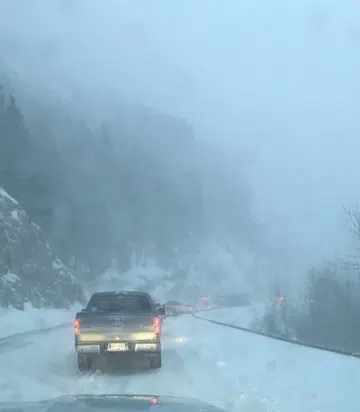 The MLA for Kootenay East says his constituents are demanding accountability for highway maintenance in the region.
Tom Shypitka says he has been flooded with calls and emails since Saturday's fatal crash that led to the deaths of Cranbrook's Clayton Murrell and Joan MacKinnon.
Murrell was a captain for the Cranbrook Fire Department and MacKinnon was the Aquatics Supervisor at Western Financial Place.
Shypitka, a former Cranbrook City Councillor, says the two were great pillars of the community and its a devastating loss for everyone.
However, grief and anguish have slowly turned to anger and residents are demanding answers according to Shypitka.
He claims they are arguing there needs to be transparency regarding if the contractor Mainroad East Kootenay is meeting its obligation.
With that said, Shypitka does believe Mainroad and the province are doing a good job, insisting when people complain they never see a plow on the road it just simply isn't true.
The Kootenay-East representative says he has sat down with both the contractor and province and seen patrol logs and track records.
Shypitka believes they are meeting the specifications outlined in their contract with the Ministry, which also says Mainroad East Kootenay is exceeding expectations 95% of the time.
Over the long term, the local MLA says they will review how the province oversees highway maintenance and whether the standards can be raised.
Shypitka says the standard has been stagnant for a very long time but traffic volumes and vehicle speeds have changed.
He suggests in the short term, as a community, we need to realize its a dangerous mindset to never expect dangerous conditions.
He adds severe roads conditions are part driving in the Kootenays and that's not an excuse but just a reality.
Elaborating on that, Shypitka encourages motorists to call Mainroad to report any severe road conditions in the service area (1-800-665-4929).
He points out once a report is made Mainroad are required to respond to that area within 90 minutes.
According to Shypitka, not one report had been made to Mainroad about the condition of Highway 3 near Yahk Saturday morning before the fatal crash.
– Liberal Kootenay East MLA Tom Shypitka
– Full interview: