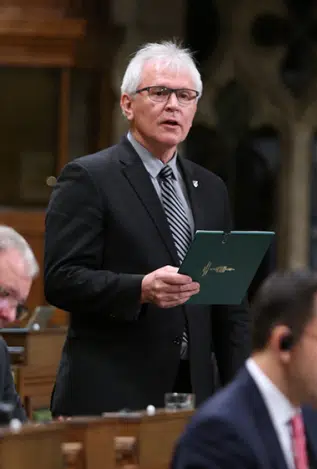 The MP for Kootenay-Columbia suggests progress is being made to reestablish water and eco-system protection in the riding.
New Democrat Wayne Stetski stood up in the House of Commons this week – asking if the Liberal government would restore a Department of Fisheries and Oceans Office in the Kootenays.
He says resources have declined drastically since he left his role as the Regional Fish and Wildlife Manager for Southeast BC in 2009.
"At the time there was a DFO office in the Kootenays that had four staff, they showed me a staffing chart [showing] that they were to go to 12, by the time 2015 came along there was not one DFO staff in the Kootenays," Stetski said to his colleagues.
Stetski blames the cuts on the previous Conservative government, who also held the constituency for the previous 21 years.
"Quiet frankly it was the Conservative government's attack on environmental legislation including the Fisheries Act, Navigable Waters Act, Environmental Assessment Act that led to the change in my riding," he added.
Stetski insists water and eco-sytems are critically important to the culture, economy and recreation of the region.
The Liberals said they recognize how critical it is to increase resources in these areas.
Crown-Indigenous Relations/Northern Affairs Parliamentary Secretary Yvonne Jonnes said she believes there is more protection becoming available for jurisdictions across Canada.
"We recognize that as being one of the critical pieces that has to happen," Jonnes stated before adding the Fishers industry has been a tremendous benefit to many generations in this country and is a valuable resource.
– Kootenay Columbia NDP MP Wayne Stetski's exchange with Crown-Indigenous Relations/Northern Affairs Parliamentary Secretary Yvonne Jonnes