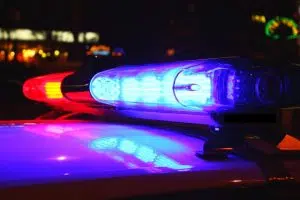 Cranbrook RCMP says they found stolen guns and drugs after using a spike belt to stop a runaway vehicle near Fort Steele.
An officer with the East Kootenay Traffic Services tried to pull over a suspected impaired driver Wednesday afternoon on HWY 3 between Cranbrook and Jaffray but the vehicle sped off.
Staff Sgt. Hector Lee explains Traffic Service radioed the Cranbrook detachment, who were able to set up the spike belt and ultimately disable the suspect vehicle near a HWY 93/95 interchange.
Two suspects were taken into custody and a 26 year old man from Fernie and a 21 year old woman from Cranbrook face several charges.
Officers discovered firearms, including a loaded hand gun, a substance suspected to be fentanyl and a considerable amount of cash.
Lee says the vehicle was reported stolen from Calgary and the guns are believed to have been obtained during a Break and Enter at a rural property in the Kootenays, so they're trying to connect all the dots with their investigation.
"Especially when you're dealing with a substantial amount of controlled substances that were seized as well," he explains. "There's always links to other criminal organizations or groups that we're looking for and investigating. In the meantime, we start from the ground up and were not too far from the ground yet."
Lee suggests it is very disconcerting to him his officers found a loaded gun in the vehicle, but overall he considered the operation a success.
"[It's] just an excellent relationship between East Kootenay Traffic Services, Police Dog Services and ourselves," Lee exclaims. "Making sure that this didn't get to our city and getting it to the point where we were able to stop it the way we did, safely with no injuries, no damage to any vehicles and a relative low risk to the general public."
The young man and woman are being charged with Possession of Stolen Property, Possession of a Controlled Substance for the purpose of trafficking, and Possession of a restricted weapon and other firearm offences.
RCMP are continuing to investigate.
– Cranbrook RCMP Staff Sgt. Hector Lee