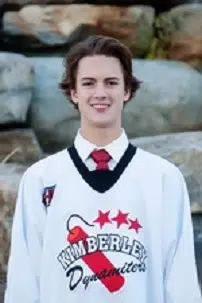 The Kimberley Dynamiters' regular season scoring leader wasted no time plastering points in the playoffs.
Brock Palmer posted a goal and eight assists in the Nitros' first three games against Fernie over the weekend.
The 18-year old rookie says he thrives in a playoff setting.
"I love pressure situations." says Palmer. "We haven't thankfully had to deal with a knockout situation so far, hopefully we don't have to for [the entire playoffs] but I think the pressure is awesome."
Five of Palmer's nine points have come on the man advantage. The rookie forward says their power play is firing on all cylinders.
"It's really working for us lately." says Palmer. "[Sunday] night four of our five goals were on the power play so that helps too."
Palmer led Kimberley in scoring during the regular season with 25 goals and 33 assists in 45 games. The rookie forward finished at the top of the league in rookie scoring.
The Coaldale, Alberta native currently leads the entire league in postseason points.
The Dynamiters have the Fernie Ghostriders on the ropes after claiming the first three division semi-final games in convincing fashion to take a 3-0 series lead.
Kimberley won 6-2 Friday, 8-2 Saturday and 5-2 Sunday to increase their win streak to 12 games.
The Nitros shoot for a sweep of the Ghostriders in Sparwood on Tuesday.
– Brock Palmer, Kimberley Dynamiters forward