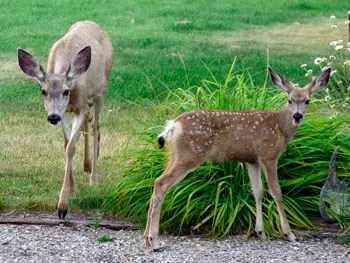 Cranbrook's Mayor says they followed all the rules in the city's recent deer cull.
This after the BC Deer Protection Society says they violated a provincial permit and have called for an investigation.
The Society says the City was authorized to kill 50 mule deer, but 20 of the animals put down were white-tailed.
Lee Pratt says the city was allowed to kill white-tails if they entered a trap.
"I think in the past, it used to specify individual numbers, like you can only take so many white-tailed deer and so many mule deer," Pratt says. "But this permit clearly states hunt, trap or kill up to a combined total of 50 mule deer or incidental white-tailed deer."
Pratt feels they have done everything they can to be compliant.
"We don't treat the cull lightly. Its a tough decision when we make it to do the cull," Pratt says. "When we get the permit, we hire a contractor and we make sure that he does everything as according to the permit to make sure we are not overstepping our boundaries."
The BC Government told the Drive FM newsroom it is looking into the cull to "confirm it was completed in compliance with the issued permit."
In an e-mail, it said the permit allowed for a combined total of up to 50 mule deer or incidental white-tailed deer during the open or closed hunting season, with incidental referring to deer that are injured or otherwise in distress that need to be put down for humane reasons.
It says the City's four previous culls saw 63 animals put down, nine of which were white-tailed.
The Province adds the City of Cranbrook completed the cull, but has not provided a report yet.
– Cranbrook Mayor Lee Pratt