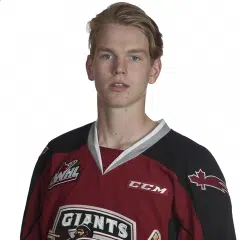 It's been a smooth transition into the Western Hockey League for a promising defenceman from Cranbrook.
Bowen Byram has tallied 25 points in 54 games this season with the Vancouver Giants.
The 16-year old was named WHL Rookie of the Month for February and is gearing up for a playoff run with the Giants.
Byram believes his team has a chance at going all the way.
"Any team in the Western Conference can make it to the finals so we're just hoping to make a push and hopefully we can make our way to the final." says Byram.
Vancouver is third in the BC Division with a 33-23-6-3 record and will likely take on the second-seeded Victoria Royals in the first round.
The 16-year old also joined Peyton Krebs and Team Canada in the World U-17 Hockey Challenge in November.
"Me and [Peyton] are pretty good buddies, we've been battling against each other since peewee so it's cool we're now in the [WHL] battling against each other." says Byram. "He's obviously a great player and I think he's proven that this year."
Byram says he couldn't have asked for a better start to his junior career.
"I'm in a great spot, I have a lot of great resources available for me from the coaching staff to General Manager Glen Hanlon and everybody around the organization." says Byram. "I think [everyone] has kind of helped me and I'm developing into a player that can contribute in the Western Hockey League."
– Bowen Byram, Vancouver Giants defenceman