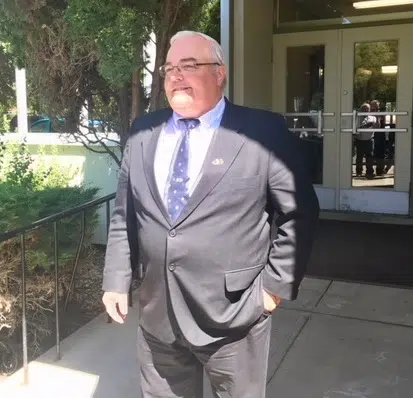 A Bountiful man convicted of polygamy says he's unsure if he will still appeal the decision after a judge threw out his constitutional challenge.
Justice Sheri Ann Donegan dismissed Winston Blackmore's application to have the charges against him stayed on Friday.
Following the decision, Blackmore said outside the court he isn't encouraging the practice but also doesn't discourage anyone who has a religious commitment.
"I know one thing, and that is our faith is as good as anybody's," Blackmore asserts. "But, at the end of the day, we need to be people who respect the laws of our country."
Justice Donegan upheld Canada's polygamy law despite Blackmore arguing it infringes on the charter right to freedom of religion and expression.
The judge ruled regardless of the province not pressing charges when the investigation first began in the early 1990s, Blackmore knowingly ignored the laws of Canada.
"No, actually, I didn't know it was illegal," Blackmore claims. "We got a definite letter from the attorney general at the time, which said that our conduct was protected under the charter."
"The same charter, by the way, that affects same-sex couples. The same charter that affects Ashley Madison, the 39 million club in Ottawa."
Justice Donegan told the courtroom Friday the 1992 press release was not an announcement the polygamous conduct was lawful.
She explained the statement by the province's attorney general was opinion that did not reflect legal statues.
Donegan added the A.G. also said new laws needed to be enacted and the provincial government would be meeting with federal counterparts to discuss Canada's polygamy laws.
Donegan went onto say that Blackmore's personal beliefs were more important to him than any legal advice anyway and suggested he would have likely continued his conduct regardless of the threat of prosecutor.
Blackmore and James Oler, who was also convicted of polygamy last July, will be sentenced May 15th.
Blackmore say he is still considering on whether or not he would now officially officially appeal the conviction, a decision he says will likely be made after the sentencing.
– Convicted polygamist Winston Blackmore