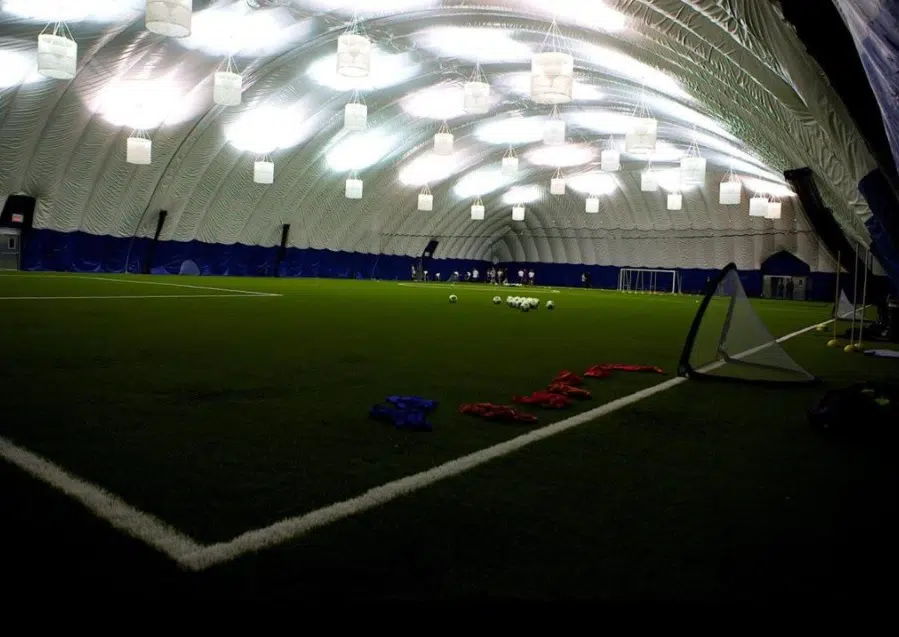 Columbia Basin Trust has announced over $1.58 million in recreation infrastructure grants for East Kootenay projects.
The largest was $500,000 going to the Kootenay East Youth Soccer Association's proposed Indoor Sports Facility in Cranbrook.
The group hopes to raise $1.7 million for an air-supported dome to give athletes year-round access to field-based sports.
Other highlights include $250,000 for the Columbia Valley Greenways Trail Alliance in Invermere for the Westside Legacy Trail and $191,000 for the Kimberley Gymnastics Society to put toward their new building.
A list of the 18 projects receiving support throughout the region can be found below.
– City of Cranbrook – Cranbrook Cycling Network – $24,000
– East Kootenay Climbing Association (Cranbrook) – Perry Creek Access Trail Development – $3,000
– Kootenay East Youth Soccer Association (Cranbrook) – KEYSA Indoor Sports Facility – $500,000
– Kootenay Rockies ATV Club (Cranbrook) – Perry-Booth Creek Connector Trail – $7,640
– Trails BC – Cranbrook Great Trail Loop Project – $35,000
– Edgewater Recreation Society – Frank's Rink net – $8,440
– Elkford Community Enhancement Society – Elkford Bike Park – $19,000
– Fairmont Community Association – Fairmont Bike and Walking Path – $20,500
– Fernie Pets Society – Railyard Parks and Trails – $75,000
– Fernie Snowmobile Association – Wrangler's Cabin Construction – $65,900
– Fernie Trail Alliance – Inclusive Trails – $75,000
– Isabella Dicken Elementary School PAC (Fernie) – Intermediate Playground – $50,000
– Columbia Valley Greenways Trail Alliance (Invermere) – Lakeview Segment: Westside Legacy Trail – $250,000
– Columbia Valley Cycling Society – Mount Swansea Recreation Site Upgrade – $115,300
– Summit Trail Makers Society – Mount Pinto Alpine Trail – $13,000
– Kimberley Biathlon Club – Warming hut – $7,500
– Kimberley Gymnastics Society – Springing into a new building – $191,000
– Village of Radium Hot Springs – Stadium Outdoor Rink – $120,000
– Total: 18 projects – $1,580,280
(Photo from the Farley Group.)