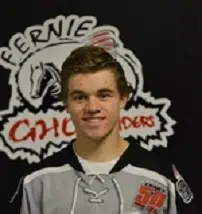 The Fernie Ghostriders' captain has mixed feelings about his junior hockey journey coming to an end.
Mitch Titus was a career Ghostrider playing 166 games in a Fernie uniform.
The 20-year old forward's career came to an end February 28 when the Riders were eliminated by Kimberley in the first round of playoffs.
Titus says there's a countless amount of people to thank for making him feel at home in Fernie.
"I love this place." says Titus. "It's been my home for four years and it's kind of weird that I'm not going to be coming back here next August with the boys just having a great time for another six months like it's supposed to be and it's kind of hard to process right now."
Titus plastered 149 points in 149 regular season games with the Ghostriders.
He says the support of the entire community is something he'll cherish forever.
"I really want to thank all the volunteers and everyone that's helped me along the way in Fernie the last four years." says Titus.
Titus says the entire Elk Valley showed him just how amazing and unique the community is and how special it is to be part of the Ghostriders organization.
The Ghostriders were abruptly pushed out of their home arena in October 2017 when a fatal ammonia leak caused the facility to be shut down for the remainder for the season.
Sparwood opened the Elk Valley Leisure Centre to the Fernie Ghostriders and gave them a second home when they had nowhere else to go.
"Thank you [Sparwood], for everything." says Titus. "If it wasn't for them being so cooperative and letting us use their facilities when we had nowhere else to go we wouldn't have a place to play this year and I can't thank those people enough and everybody that did everything for us to have a hockey season this year."
The product of Montrose, BC says there's a countless amount of great memories he remembers in Fernie from victory laps around the Memorial Arena after a win to sharing conversations in coffee shops with locals but nothing compares to the feeling he got when he played against the their arch rival, the Kimberley Dynamiters.
"I know a lot of people talk about it but it is so hard to describe how fun those games are." explains Titus. "I remember last year I scored a goal to win the game and I just remember the crowd erupting and I'm pretty sure if you ask anyone on our team or anyone on their team … the whole process of playing against Kimberley, win or lose, I really always loved playing those guys."
Jace Woodley and Grayson Neufeld will also call it a career after aging out at the end of the season.
It's always a tough transition for a junior hockey player to move on from they game they love but Titus says he hopes he can continue playing hockey as he turns his focus to education.
Titus finished his career in the Kootenay International Junior Hockey League with 155 points in 166 games and will now pass the torch to his younger brother, Owen Titus, who just finished his first full season as a Fernie Ghostrider.
– Mitch Titus, Fernie Ghostriders captain (full interview)