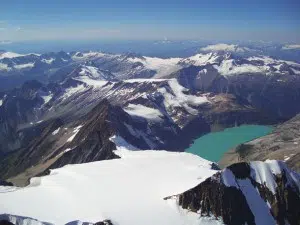 A man who calls himself a leader in the Ktunaxa Nation believes the entire community isn't opposed to Jumbo Glacier Resort.
Rob Louie Jr. wants to be a mediator between the Nation and the developers of the controversial ski resort in the Purcell Mountains.
The Ktunaxa Nation Council has long argued the site, known as Qat'Muk, is home of the grizzly bear spirit and should be left alone.
Since the Supreme Court of Canada ruled last year the development did not breach the Ktunaxa's religious rights, Louie says the company behind the resort, Glacier Resorts Ltd., approached him to be part of a reconciliation process.
"I don't see them as the Boogeyman," he claims. "I'm helping to organize ourselves so that we can hear more voices within the Nation, including and especially those that support the plan for Jumbo Glacier Resort."
Louie believes many citizens of the Nation do not necessarily agree with Council's stance but rather they need more information to have more control of the development on Jumbo mountain.
He suggests the Council is being parochial and very few Ktunaxa citizens would have even known about Qat'Muk before 2015.
"I do know and comprehend our spirituality, and I've never heard of the grizzly bear spirit living on top of a mountain," Louie insists. "Although, I know our spirits live in an and on the mountains, plural, so it seemed to me as an act of desperation and it just made my people look silly in the end."
Louie asserts he has not been able to find out who brought the Qat'Muk argument forward in the first place.
"My father is a Ktunaxa elder from the Lower Kootenay Band and a spiritual leader," he explains. "And he even questioned the legitimacy of the Ktunaxa spiritual adviser in the Qat'Muk court case. There were internal problems."
Louie says he wants to address these problems now because he believes the Ktunaxa will find themselves in a similar position with other developers in the future.
He says he is cautiously optimistic the Ktunaxa Nation Council will eventually come to the table and negotiate, and believes an Impact Management and Benefits Agreement (IMBA) with the proponent is in the best interest of everyone.
The Ktunaxa Nation reached an IMBA with Teck Coal Resources in 2016, setting out commitments and obligations for both parties to support sustainable mining in the Elk Valley.
The Ktunaxa Nation Council said in a statement last week, despite the olive branch from the developers and Louie's efforts, they are not and will not participate in negotiations.
Louie says he will be holding a public information session March 24th at the Ktunaxa Government Building in Cranbrook.

– Ktunaxa citizen Rob Louie Jr.