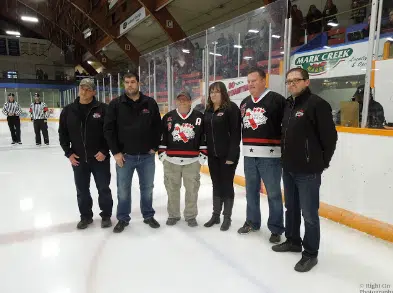 The Wasa man who promised millions to hockey in Kimberley has been fined $4,000 for paying a banquet bill with fraudulent cheques.
Mike Gould, 39, was back in court Thursday on a charge of forgery after he pleaded guilty to a count of fraud over $5,000 last month.
The forgery charge was stayed and instead Gould was sentenced to 60 hours of community service in addition to the financial penalty.
Gould took cheques from his stepfather last October to cover an $8,000 bill for a banquet at a Cranbrook restaurant he planned weeks earlier.
The Oct.14th celebration took place a day after Gould stood at centre ice of a Kimberley Dynamiters game and pledged $7.5 million to the local KIJHL organization and Kimberley Minor Hockey Association.
The Crown's Kristian DeJong told the courtroom Thursday Gould provided two cheques in the name of "Mr. and Mrs. Johnson" to the restaurant owner worth $7,500 and $2,500 the day of the banquet.
DeJong explained Mr. Johnson, who Gould lives with, is the stepfather of the defendant.
Days after the banquet Gould called the restaurant owner asking her not to cash the cheques, which led to repeated delays and promises that the money was coming.
The restaurant owner eventually went to the RCMP Nov. 2nd, and Gould was charged in December.
Gould did pay the restaurant $7,500 in cash at the end of November.
Judge Lynal Doerkson said the fact the defendant paid the amount owing, along with his willingness to plead guilty, were mitigating factors in his decision.
While the proceedings have been unfolding in Cranbrook court the last few months, both the Kimberley Dynamiters and Kimberley Minor Hockey Association have yet to see a dime of Gould's multi-million dollar pledge.
Doerkson acknowledged there was an "interesting backdrop" to this case, but points out he was there to consider charges stemming from the incident at the restaurant, and that's it.