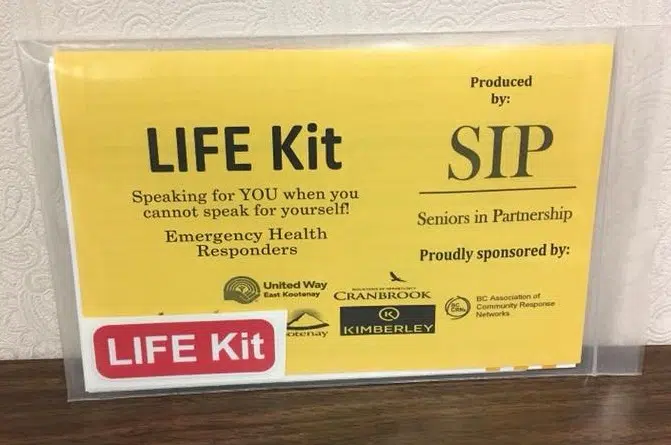 Kimberley Fire wants as many seniors as possible to take advantage of the Life Kit program.
Deputy Chief John Adolphe says Life Kits are being given to seniors throughout the community.
He says the kits give first responders vital information if an elderly patient is unconscious or can't respond.
"This is going to help them direct care for that patient in the most appropriate manner," Adolphe says. "We're working to roll this out to the community and we've had great support from BCAS, who really thinks that this program is going to help them immensely."
Adolphe says the service helps paramedics or firefighters provide treatment immediately.
"We're looking to get them to the people who may be living in the community who don't have all the supports in place or maybe not as many supports as other more able bodied people would," Adolphe says. "Anybody who has any pertinent medical history, allergies, it helps direct care right away."
A filled-in kit includes emergency contacts, medications and other important details of a person's medical history.
Kimberley Fire says their long-term goal is to have the program available in every household throughout the city.
The kits are available at the aquatic centre, senior's living residences and city hall.
(Photo from the United Way East Kootenay / Facebook)
– Deputy Chief John Adolphe, Kimberley Fire Department