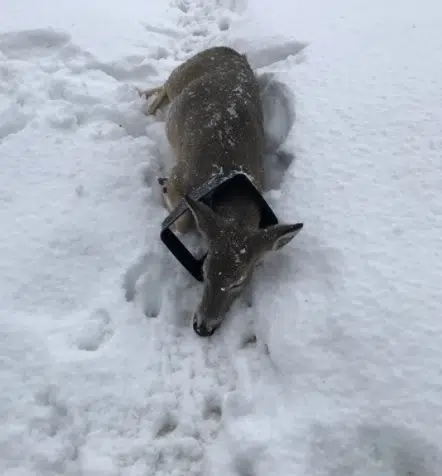 A deer in Cranbrook needed a hand from Conservation Officers after it didn't make a clean getaway from a garbage can.
CO's received a call from a citizen earlier this month who reported the animal was walking around the Cranbrook Golf Club area with a trash can lid stuck around its next.
Officials were able to locate the white tail deer and tranquilize it without issue.
"They way it was stuck on her, there's no way she would have got it off very easily," CSO Sgt. Denny Chretien explains. "It was obstructing her in her throat area. She didn't seem to be panicking too much but it definitely would have caused serious injury as time progressed."
Chretien explains the animal was awake and rejoined her fawns 25 minutes after being immobilized.
He reminds residents to be cautious of what they leave outside, especially if it involves garbage.
"I'd say if the garbage can was empty, or full of smelly garbage we probably wouldn't have had this problem but obviously something got that deer to put her head through that garbage can lid to see what was on the other side."
– Conservation Officer Service Sgt. Denny Chretien