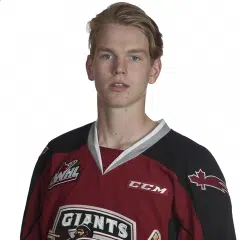 A defenceman from Cranbrook says he's humbled to be named the Western Conference Rookie of the Year.
Bowen Byram finished his first season on the Vancouver Giants blue line with 27 points in 60 games.
"It was obviously quite the honour with all the different rookies in the year, there were quite a few rookies that had good years." says Byram. "Just to be recognized like that is something special and I'm sure I'll remember it for a while."
The 16-year old says it's been amazing just to play at this level.
"I'm not sure if I ever envisioned winning an award but just playing has been kind of surreal." says Bryam. "A couple of times I've just stepped back and realized I'm here and it seems like just yesterday I was watching the ICE play in the playoffs and whatnot so it's pretty cool and I've just been soaking it all in so far."
Byram and the Giants are taking on the Victoria Royals in round one of the playoffs.
The Giants blue liner has already picked up one assist in his first two career playoff games.
The two teams are deadlocked at one game a piece with Game Three on Tuesday in Langley.
– Bowen Byram, Vancouver Giants defenceman