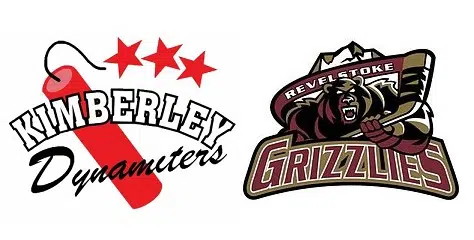 The Kimberley Dynamiters can put the Revelstoke Grizzlies on the ropes on Monday night.
The Nitros lead the Grizzlies two games to none in the KIJHL Final.
Kimberley claimed a 2-1 double overtime victory in Game One on Friday and followed that with a commanding 5-1 win in Game Two on Saturday.
Head Coach Derek Stuart says winning the first two at home was crucial.
"I believe the pressure is all on them." says Stuart. "They need to win next game to avoid facing elimination so we're just going to go in there and try and play a simple road game. For us, [winning the first two] was very important knowing we can take care of business on our own ice."
Forward James Farmer led the way offensively for Kimberley with a hat trick in Game Two.
"It feels good." says Farmer. "That's my first one [in my career] so it's pretty special."
The series shifts to the Revelstoke Forum for Games Three on Monday, followed by Game Four one day later.
Stuart says Revelstoke doesn't make many mistakes despite being down two games.
"I think we have to generate our scoring chances and really work and earn the chances that we get." says Stuart. "Whether it be earning power plays or just by chances but they don't give you much for free and that's a sign of a good them. It's why their here."
The winner of the series moves onto the Cyclone Taylor Cup – BC's Junior B Championship.
The PJHL's Richmond Sockeyes (host), Delta Ice Hawks and the VIJHL's Campbell River Storm will all be competing in the provincial tournament.
Click here to view the entire Kootenay International Junior Hockey League playoff bracket.
– Derek Stuart, Kimberley Dynamiters Head Coach