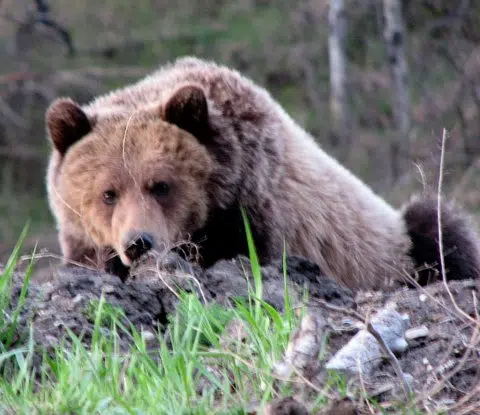 The Elk Valley is approaching its threshold to support grizzly bear populations.
This from biologist Clayton Lamb who will make a pair of presentations in our region this week titled "Grizzly Bears: Running Out of Room".
The main focus of the talks will be about what causes animal numbers to rise or fall in our region.
Lamb explains in many cases – the reasons are connected to humans.
"Road densities, mortality and then also food," he insists. "So natural food that changes annually and also human mediated food such as garbage, apples trees, and roadkill pits."
B.C.'s Auditor General said in a report released last October that habitat loss, caused by things such as increase in forest service roads, is the biggest threat to grizzlies in the province.
Lamb, who is a PhD candidate from the University of Alberta, estimates there's approximately 100,000 km of resoruce road in the Kootenays.
The audit of the B.C. government's grizzly management plan found an absence of provincial monitoring and inventory strategies, and incomplete commitments to save grizzly populations, estimated at 15,000 province-wide.
Lamb says grizzly populations in the East Kootenay are generally healthy right now, but that could change.
Numbers have been slowly rebounding since intense prosecution of grizzly bears between 1950s and 1980s according to the bear biologist.
"More recently, we've had a pretty big decline in the Elk Valley of about 40 per cent from 2006 to 2012ish," explains Lamb who adds numbers back on the rebound in recent years. "We're seeing populations sort of reach carrying capacity and start to go up and down now. That's when some of the human pressures are really starting to kick in and limit these populations."
Lamb will speak in Cranbrook Wednesday at the College of the Rockies Lecture Theatre and at the Fernie Arts Station Thursday.
– Bear biologist Clayton Lamb