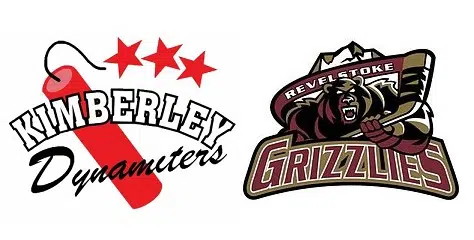 The Kimberley Dynamiters and Revelstoke Grizzlies are right back at it for Game Four of the KIJHL Final on Tuesday night.
The Nitros were losers Monday night in Revelstoke but lead the best-of-seven series two games to one.
Forward Brock Palmer says they need to capitalize on their opportunities if they want to take a game on the road.
"I think we kind of outplayed them most of the game [Monday]." says Palmer. "We had more shots than them, their goalie just played really well."
The Grizzlies goaltender Giovanni Sambrielaz has played the most games of any puck-stopper in the KIJHL this postseason.
Sambrielaz has a goals against average of 2.20 and a save percentage of .935 after making 40 saves in Game Three.
Palmer says both teams have fed off the crowd on home ice.
"The fans in Kimberley are awesome and the fans in Revelstoke are crazy too." says Palmer. "Home ice advantage means a lot in this series so we'll have to see how [Game Four] goes, hopefully we can pull out a win."
He adds the Dynamiters have done good job of playing physical and the series has been full of intensity.
The two teams return to Kimberley for Game Five Thursday.
The winner of the series moves on to play in the Cyclone Taylor Cup – BC's Junior B Championship.
– Brock Palmer, Kimberley Dynamiters forward