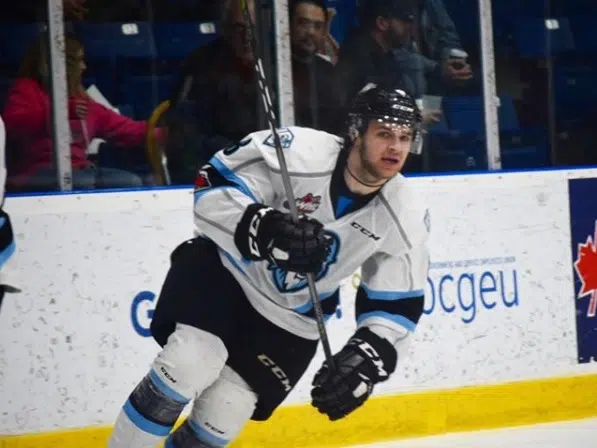 It's been a smooth transition into professional hockey for a former Kootenay ICE forward.
Alec Baer is playing for the ECHL's Rapid City Rush and has posted three points in his first five games.
The Rush are an affiliate of the Minnesota Wild.
Baer – a product of St. Louis Park, Minnesota – says being connected to his childhood team makes it even cooler.
"I know a couple of guys that are in the organization and such so I've had some friends here." says Baer. "It's been an awesome experience so far."
"My uncle has had some glass tickets for the Wild games for a while so I used to go as a kid all the time."
The 20-year old scored in his pro hockey debut on March 21 when the Rush lost 2-1 in a shootout to the Idaho Steelheads.
Also read: Former ICE F Veloso signs with ECHL's Jacksonville Icemen
Baer says playing with veterans has made the jump to pro hockey less nerveracking.
"Scoring in my debut kind of got that out of the way." says Baer. "First goal can sometimes be a tough one but I've had great linemates so it makes it one step easier."
What a SUPER close game! Welcome to the pros Alec Baer! Your first pro goal AND your first goal on a shootout attempt? Very special for this Rush team. Back at it Friday Rush Nation! pic.twitter.com/Kbilyr2qre

— Rapid City Rush (@RapidCityRush) March 22, 2018
Baer tied with Colton Kroeker for the ICE scoring title this past season with 61 points in 72 games.
– Alec Baer, Rapid City Rush forward