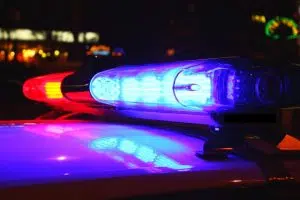 A man has been arrested after a fast food restaurant employee in Cranbrook was allegedly threatened at knifepoint.
RCMP were called Sunday afternoon after a man took a donation box off the counter at Kentucky Friend Chicken.
Constable Katie Forgeron says an employee chased after the suspect, who reportedly threatened the worker with the weapon before running away.
"We do not recommend chasing after the suspect," Forgeron says. "You never know what the suspect is going to have. Obviously, in this instance, he had a knife and it could have gone sideways. Thankfully, once the suspect produced the knife, the employees backed away."
Forgeron says they were able to link the incident to a theft at a grocery store earlier that day and identified the suspect.
Mounties have taken a 30 year old into custody and are recommending several charges, including robbery, threats, possession of a weapon for a dangerous purpose and theft under $5000.
– Cranbrook RCMP Constable, Katie Forgeron