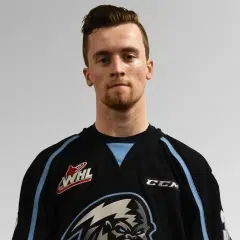 A Kootenay ICE goaltender feels good knowing he's on the NHL's radar but wants to remain focused on development.
Duncan McGovern was ranked 24th among North American netminders in the NHL Central Scouting final rankings.
The 17-year old puck stopper says he's remaining focused on improving his game this offseason.
"At least you know someone is kind of watching you so you can let the cards fall where they may knowing that." says McGovern. "It's a good feeling but it's not my only concern right now."
"It's nice to get some recognition for what you're doing but I'm confident in myself so I don't really need the rankings but it's nice to [get recognized]."
McGovern posted a 3.10 GAA with an .893 save percentage in 34 games last season.
ICE defenceman Martin Bodak was also ranked 172nd among North American skaters.
Bodak posted seven goals and 24 assists in 59 games with Kootenay in the 2017-18 season.
The 2018 NHL Entry Draft takes place June 22-23, 2018 in Dallas, Texas.
– Duncan McGovern, Kootenay ICE goaltender