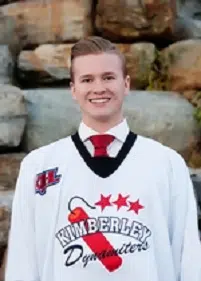 As one chapter ends, another begins for one Kimberley Dynamiters goaltender.
Cody Campbell is officially moving on to play college hockey at the University of Central Oklahoma after two years in Kimberley.
Campbell says it's an emotional time.
"As soon as the buzzer went in that last game I was in tears right away." says Campbell. "It's crazy how fast it goes, people say it does and now that I've experienced it, they're absolutely right. You have to enjoy every second of it because it flys and it's a lot of fun but it's definitely too short."
Campbell commited to the UCO Bronchos of the American Collegiate Hockey Associaton in January 2018 and says he's not taking the opportunity for granted.
"One chapter is over and the next one starts up." says Campbell. "I'm very fortunate to get the opportunity to play college hockey next year and I'm super excited to go to another very successful program just like Kimberley."
Campbell believes his development during his time in Kimberley was vital in getting an opportunity to play college hockey.
The Nitros netminder posted a 1.76 goals against average during their championship playoff run this year.
The 20-year old puck-stopper won 16 playoff games on route to the Dynamiters KIJHL Championship this season.
Campbell finished his Junior B career with 65 wins, 26 losses and a single tie.
The Calgary native will have a familiar face in UCO next season as Columbia Valley Rockies defenceman Davin Burton also announced his commitment to the team earlier this week.
– Cody Campbell, Kimberley Dynamiters goaltender