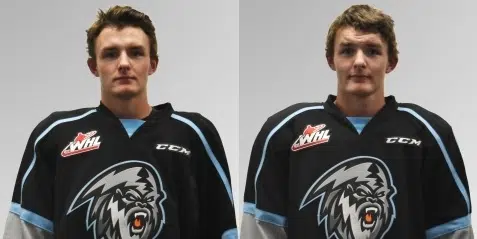 Two brothers on the Kootenay ICE participated in a benefit hockey game for the Humboldt Broncos in Yorkton, Saskatchewan last week.
The Humboldt Broncos junior hockey team was inolved in a tragic bus accident April 6 that saw 16 people die and 13 others suffer injuries.
Keenan and Kaeden Taphorn both grew up playing hockey in Yorkton.
Keenan Taphorn says the Saskatchewan hockey family is a tight-knit group.
"Hockey is a sport that every kid in Saskatchewan plays so when something like this happens it's good to see how the hockey community comes together and just supports each other." says Taphorn. "It's tough, the situation there, but it was good how the community came together."
Taphorn says the accident affected the entire province.
"It was a good experience [playing in the game]." says Taphorn. "Obviously the tragic event that happened [with] Humboldt, it really affected whole hockey community so it was good just to get a group of junior guys together and get in that game. We had lots of people here and it was just good to help support the families of the victims involved in that crash."
All the money raised at the benefit game supports the families affected by the incident.
ICE alumni Jared Legien and John Neibrandt also took part in the event.
– Keenan Taphorn, Kootenay ICE assistant captain