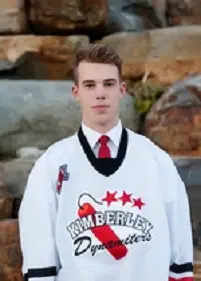 A long-time Kimberley Dynamiters d-man is packing his bags for Arizona.
Devon Langelaar has commited to the University of Arizona of the American Collegiate Hockey Association for next season.
Langelaar says it's a relief to see his hard work and development in junior hockey pay off.
"I waited a little longer than most guys would to commit but Arizona is a great school and I just can't wait to get there now." says Langelaar.
The 21-year old says his development during his time in Kimberley was vital in taking the next step in his career.
"If you were to put me in a one-on-one with my first-year player against me now, it wouldn't even be close." explains Langelaar. "It'd be like Wayne Gretzky against an average beer league player."
Langelaar says he will study business and accounting at U of A.
The 21-year old posted 54 points in 119 career games with the Dynamiters.
Langelaar joins goaltender Cody Campbell as the second Dynamiter to commit to a school in the ACHA this year.
– Devon Langelaar, Kimberley Dynamiters defenceman