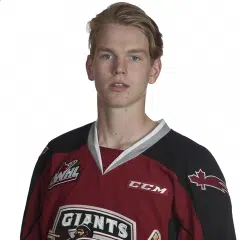 A defenceman from Cranbrook says it was an eye-opening experience playing for Team Canada at the Under-18 World Championship in Russia.
Bowen Byram returned home this week after his team fell to the Czech Republic in the quarter final.
Byram says playing as a 16-year old was a challenge but he enjoyed the opportunity.
"They're the best of the best and it's not easy to compete with them and play with them but I think when I'm on top of my game I'm right there with them." says Byram.
The 16-year old says he didn't take a second of his time overseas for granted.
"It's kind of funny, when we were over there we kind of seemed like celebrities, everyone was always paying attention to us and whatnot and then when I come home I have to go to school."
"It's kind of a downer but it's all part of things I guess." laughed Byram.
Byram collected one point in five games on the Canadian blue line.
Byram – who plays for the WHL's Vancouver Giants – says he's focusing on school and training for next season now that he's back in the Key City.
– Bowen Byram, Vancouver Giants defenceman