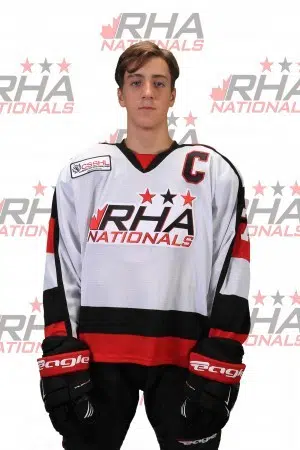 The top Kootenay ICE draft pick says he's excited to contribute to a team with a bright future.
Carson Lambos was selected second overall at the 2018 Bantam Draft in Red Deer on Thursday.
The 15-year old says he's a defenceman that works hard on both ends of the ice.
"I'm someone that takes pride on my game in the d-zone and try to play hard and aggressive in the defensive zone." explains Lambos. "I'm never afraid to jump up and help join the team on some offence as well."
Lambos says he's excited to join an organization with other top draft picks like Peyton Krebs and Connor McClennon.
"It looks like Kootenay has a super bright future." says Lambos. "I'm just hoping I can bring something to the table and help contribute."
Lambos posted 40 points in 30 games with the Rink Hockey Academy of the Canadian Sport School Hockey League last season.
Lambos' Rink Hockey Academy teammate Skyler Bruce was also drafted by the ICE in the second round.
The Winnipeg, Manitoba product says he's focused on training hard in the gym and on the ice this off-season.
– Carson Lambos, Kootenay ICE draft pick
(Photo courtesy of Rink Hockey Academy)