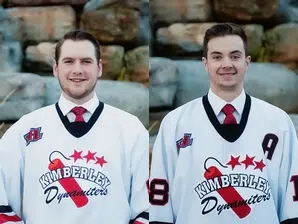 Two Kimberley Dynamiters defenceman are retiring as champions.
1998-born Kimberley natives Luke Purdy and James Rota both announced they are hanging up their skates following the Nitros 2018 KIJHL Championship season.
Purdy, a six-foot-two, 205-pound unit, amassed 255 penalty minutes in 106 games in a Nitro jersey.
The Kimberley product says playing for his hometown team was a dream come true.
"Growing up watching that team and then watching them win the championship last time, it's kind of a surreal experience getting that opportunity." says Purdy.
Purdy says he wanted to go out as a champion.
"There's no better way to go out." says Purdy. "It was a great year but it's time to move on."
Purdy says he's pursuing an electrical apprenticeship now that he's done with junior hockey.
Rota finished his final season with 43 points in 116 games as a Dynamiter.
– Luke Purdy, Kimberley Dynamiters defenceman