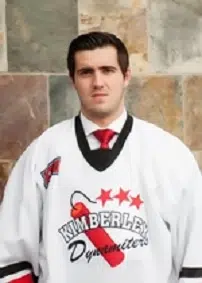 The Kimberley Dynamiters have shipped forward Colby Sherlock to the Sicamous Eagles.
The Nitros received a player development fee in return.
Sherlock came to the Dynamiters from the Columbia Valley Rockies midway through the 2017-18 season.
The 20-year old posted seven points in 50 games last year, all of which came with the Rockies.
Sherlock, a Sicamous native, will play his overage year with his hometown team.
The 5'11", 180-pound forward played two games with the Eagles in 2013-14 where he picked up a single assist in two games.