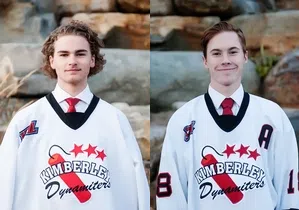 Two Kimberley Dynamiter forwards are packing their bags for American college hockey.
Matt Davies announced his commitment to the University of Central Oklahoma of the ACHA for the upcoming season.
The 20-year old amassed 80 points in 62 games with the Dynamiters in the 2017-18 regular season and playoffs combined.
Davies will join Nitros netminder Cody Campbell who committted to UCO in January.
Nick Ketola is also heading stateside to play with Bethel University of the NCAA Division III.
Ketola posted 56 points in 64 games with the Dynamiters in 2017-18.