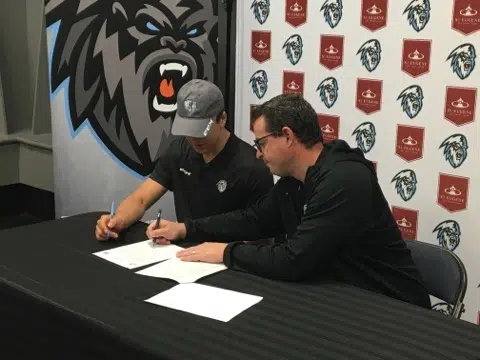 The Kootenay ICE have sealed a deal with their 2018 first round pick.
The club announced the signing of defenceman Carson Lambos on Monday at Western Financial Place.
The 15-year old prospect says it's a surreal feeling.
"Super happy and excited right now to finally put the pen to the paper and make it official and have this be my future." says Lambos. "I'm just super, super happy to have a future in Kootenay."
Lambos was selected second overall by the ICE in this years' Bantam Draft.
Watch as @WHLKootenayICE prospect Carson Lambos (@Carsonlamb7) puts pen to paper and signs with the club. Welcome to the dub, kid! pic.twitter.com/DjOGY7fH0v

— Devin Howard (@howardevin) May 28, 2018
The Winnipeg product posted 40 points in 30 games last season with Rink Hockey Academy of the Canadian Sport School League.
Lambos says it's exciting to be able to check out his future home.
"I might have been a bit nervous on the small plane that brings me in but other than that that's the only nervousness there was." says Lambos. "It was really exciting and lots of fun."
Kootenay also signed second round draft picks Karter Prosofsky and Skyler Bruce.