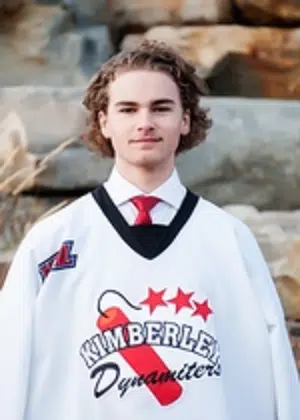 A former Kimberley Dynamiter is ready to showcase his skills at the next level.
Matt Davies announced his commitment to the University of Central Oklahoma last week.
The 20-year old spent two full seasons with the Nitros collecting 128 points in 120 games.
Davies says he went down for a tour of the campus recently and knew it was the right decision.
"It's pretty exciting and I'm pretty honoured to do it." says Davies. "It's kind of been a long process but I'm happy it's over with now and I can focus on the next season."
Davies says his biggest improvement over the past two seasons is his maturity.
"On and off the ice how to handle myself to make every game be as consistent as possible." says Davies. "Doing my best throughout the whole year and not having any lulls throughout the middle."
Davies joins former Kimberley netminder Cody Campbell who also committed to UCO in January.
– Matt Davies, University of Central Oklahoma Bronchos commit