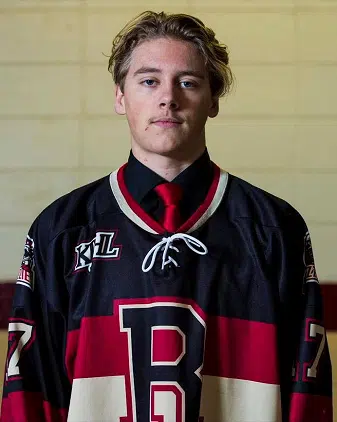 A hockey player from Cranbrook is excited to take his talents to the next level.
Clark Nelson signed with the BCHL's Chilliwack Chiefs over the weekend.
The 18-year old went all the way to the KIJHL Final in his rookie season with the Revelstoke Grizzlies last year.
The Grizzlies fell to the Kimberley Dynamiters four games to two after finishing the regular season as the top team in the Okanagan/Shuswap Conference.
Nelson says he learned a lot from his first season in junior hockey.
"We all came together and we all battled and tried to move to the next level and there's a lot of guys that are." says Nelson.
The 18-year old forward collected 28 points in 54 games with the Grizzlies last season.
Nelson says his father played one season with the Chiefs in the mid-90s.
"That's really cool for me." says Nelson. "My uncle played there as well but he was there briefly for about two weeks and then he was off to school but it is really cool that all three of us played there at one point."
The Chiefs won the RBC Cup, Canada's Junior A championship, as the host city last season.
Nelson says his overall goal is to play hockey at the college level.
– Clark Nelson, Chilliwack Chiefs commit
(Photo courtesy of Revelstoke Grizzlies)