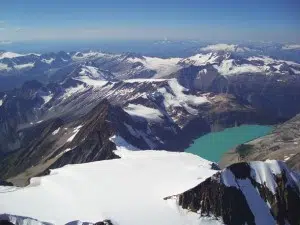 An environmental group is calling for BC Supreme Court to uphold its decision to keep Jumbo Glacier wild.
The developer who has being trying to build a resort community, Jumbo Glacier Resort, in the area is asking the court to overturn their 2015 decision which halted construction from starting.
Ecojustice spokesman Alan Andrews says lawyers are representing Jumbo Creek Conservation Society and Wildsight in a 3-day hearing in regards to the issue.
"We're intervening in this case really to uphold environmental law. We want to make sure that projects like the glacier project don't go ahead based on outdated environmental information."
The BC Government initially granted an environmental assessment for the project in 2004.
Andrews says information from that assessment is out of date and should not influence any decisions to move the project forward.
He argues that if the resort was build it would adversely impact habitat for grizzlies and other wildlife.
"It's a wildlife corridor which allows the grizzly bear population in the glacier to connect with populations in the US. So it's vitally important that its protected. That's why we have environmental laws that ensure that the environmental impacts of projects are fully assessed."
Andrews says the developer had ten years to get the project off the ground but made almost no progress and feels they shouldn't be allowed to just pick up and build the resort based on outdated environmental information.
– Alan Andrews – Spokesperson, Ecojustice