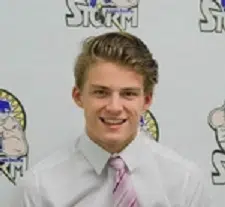 The Kimberley Dynamiters added a defenceman to its roster on Thursday morning.
The Nitros picked up Mitch Fargey from the Kamloops Storm in exchange for a player development fee.
Head Coach Derek Stuart says Fargey is a skilled skater
"He moves the puck pretty well." says Stuart. "I think defensively he's solid too, there's obviously some areas we can improve on and help him get better just like every other player in the league, but for us it was something we needed to address in terms of he shoots right handed, he can skate and he's a 2000-born birthday as well."
Stuart understands the young defenceman also likes to play physical.
"I've heard with a couple people I've checked with that he plays with a little bit of an edge and if given some rope can be play with a little more edge so I think there is a physical element there." says Stuart.
Stuart adds Fargey is hoping to attend college in the area and the Dynamiters were the perfect fit for his next step.
Fargey posted 13 points and 50 penalty minutes in 52 games with the Storm last year.
– Derek Stuart, Kimberley Dynamiters Head Coach